con versare – to turn or to dance together
"Conversare … I love the sound of the word and everything it evokes."
"Conversare … it sends a shiver down my spine."
"Simple and deep – a spiritual adventure."
Some comments (which you may have noted) about this way of engaging among strangers over a meal in public places. See also comments from participants in earlier events in Hong Kong.
Conversare in the Market on 12 January 2016 was a resounding success in that there was lively interaction among the some 30 participants all of whom seemed to get into the spirit of the evening.
Informal feedback to date indicates that people found it to be interesting, lively and enjoyable. One man told us that his dinner partner happened to be a person who was facing similar 'existential' issues to those he was and that talking these through helped him to gain clarity.
Another wrote:
Realizing the common human – talking without borders
There once was an informal meeting
Of strangers, with coffee and eating,
Where talking held sway
So new friends might say
Such contact they'd soon be repeating.
Andrew Booth
Among the participants were people across the age spectrum from 13 to 80+.
For more insight into the nature and purpose of Conversare in the Market see here and here.
Essentially these events are to enable all participants to engage with others with a generous spirit and perhaps be reminded of how pleasurable and insightful convivial conversations can be.
Integral to this event was that it was being videographed. This photo shows the videographer in action.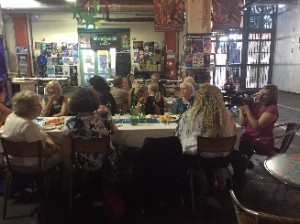 We applied successfully to an organisation called Renewal SA for funding to do this. One of the briefs of Renewal SA is to 'promote vibrancy in the central business district of the city of Adelaide'.
In the near future  – I have been away for a fortnight – we will look at what was captured on film that night to identify components which will enable viewers to readily appreciate the essence of these events.  And from this, for local people, to be attracted to come along to experience for themselves just how enjoyable and interesting these can be.
Once this is done we will be talking to a range of interested groups about collaboration and support in taking this enterprise forward. For appreciation is growing about its potential to have far reaching reverberations in diverse ways.
Just one of these is through it happening in the 'iconic' place which is the Adelaide Central Market. For this institution – nearly 150 years old – could now take on a more 'community development' function. For among the 'constituents' which could be attracted to participate are lonely people, foreign students and migrants of diverse kinds – together with lively spirits on the lookout for convivial conversation!
How to make contact with people in these groups will be in our minds.
For people who live further afield, how could this approach be of value for your purposes? Do you recognise that here is a means by which anyone is welcome – whoever comes is the right people – to contribute to conversations that matter. Knowing that they are in a context in which all who show up are aware of being treated with respect, that they are there to give rather than get and that everybody is a full participant.
How come?
During my recent travels I attended a 5 day workshop of people who call themselves 'Social Developers Network'.  On the premise that we see a role to for ourselves in making our little planet a better place through promoting social innovations based on treating each other with respect. On one of the evenings I invited the people in the group to have dinner with someone they did not know well.  Which happened and has been reported informally as 'I learned much about  my dinner partner.'
More specifically came this reflection:
"I also think that the conversare idea is one of those ideas fitting with my sense that we need to recapture public spaces for good relating… we have been systematically losing public spaces and time together spending in them (which, after all, makes them 'public'!) and leaving it to the 'developers' to 'develop' them in enclosed 'private' spaces – which are, of course, immediately filled with the 'public' messages from our screens and social media connections…"
Jaques Boulet, Director Borderlands
What about holding these events at night in cafes which normally close late afternoon?
Peter Willis
What about Wheels to Meals – volunteer drivers/transporters taking people who are mainly housebound – elderly people and those with physical or mental disabilities to meeting places such as cafes or community centres to have conversations perhaps over a light meal with people they don' know?
I wonder if you see that there are possibilities aplenty in regard to bringing people together to 'turn or to dance together' conversationally – and related opportunities for career options for those who recognise these?
Looking forward.
Alan Stewart, PhD
Facilitator of conversations that matter and participatory fun
Multimind Solutions
Samone Wear
Event Manager
W| www.platinumeventagency.com
Twitter| Follow us @AgencyPlatinum
---
Leave a Reply