A peruse of the earlier posts here may help you to gain a sense – or a reminder – of the essence, underlying purpose and practice of Conversare events. And of enjoyment experienced by participants.
What I wish to draw your attention to now is that this way of engaging with each other has a variety of foundations.
One which is the focus of this post is that I had the remarkable fortune to encounter a person called Heinz von Foerster. A Google search will reveal much about this person, who he was, what he accomplished and a sense of his lasting legacy.
What I experienced personally was being in Heinz presence, twice.  The first was in 1981, when I was a Senior Fulbright Scholar at Stanford University in California. During my stay I took the opportunity to participate in an International Symposium entitled 'Disorder and Order.' Suffice for now to say that Heinz was one of the main speakers on the topic 'Disorder/Order: Discovery or Invention'. He explored the notion – for which he was famous in particular circles – that order in our lives is what we invent.
Another keynote speaker was Francisco Varela on 'Living ways of Sense Making – a Middle Path for Sense Making'.
I mention Varela to say that it was from his presentation that I noted the idea of 'Conversare' being 'to turn or to dance together'.
And to add that the three of us had a lively conversation during one of the breaks.
Moving on twenty years to 2001 when I had the great fortune to spend a half hour with Heinz at his home on Rattlesnake Hill, Pescadero, California (near Santa Cruz). By then he was quite frail, at age 90 (he died a few month later). And had recently returned from a visit to his birth place, Vienna in Austria, where he had been awarded the first ever Viktor Frankl medal. And was in fine spirit.
This meeting was in the company of the late Barbara Vogl  (lovely photo of her)  who had invited me to stay with her for a few days on her little farm near to Heinz home.
The three of us had a delightful time together.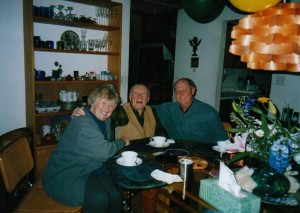 I mention this brief outline of a wondrous story to introduce the ideas of Heinz on 'Living in the Dance' which as indicated above underpins Conversare – to turn or to dance together.
Living in the dance
Heinz von Foerster
Q: How can someone in the everyday world see this most easily, this dance metaphor? In poetry?
A: I think it is played out in every way that anybody talks to each other. If I buy a ticket for the movie, I have a conversation with the lady behind the window. And I smile, and she smiles back. And we have become friends for two seconds. And we have contacted another human being. And this is probably what makes some people a little bit queasy about me. This is my personal fun which I have in life, to contact other people in such a way that the other is taking notice of me.
You know my funny statement, the hearer and not the speaker determines the meaning of an utterance. And if you know that, then you need to determine how you must speak so that the hearer is dancing with you.
Q: So it makes sense that someone who is a performer you would use some of that body language to help that dance take place.
A: Yes. But I don't play the tricks. What I do is, I aim that way. If I step up to the ticket counter, I know I'm speaking to a human being.
From Christina Waters
http://www.univie.ac.at/constructivism/HvF/festschrift/waters.html
And
"…I thought is it because of the dance with these friends, because of the interaction with all these people that I slowly succeeded in becoming a human being. One becomes a human being through one's interaction, love, and friendships with others."
From: Heinz von Foerster
http://www.univie.ac.at/constructivism/HvF/festschrift/preface.html
To add:
Other Heinz' famous aphorisms:
"At any moment in time we can choose to act towards a more desirable future."
"We are responsible for how we interpret our experience."
And to conclude in Heinz words:
Take it or leave it.
I don't want to sell anything to anyone.
I don't want to persuade any human being.
I only want to draw attention.
The only thing I want is to draw attention.
Looking forward
Al  
Alan Stewart, PhD
Social Artist
Facilitator of conversations that matter and participatory fun
Senior Fulbright Scholar
Blog: Conversare
Web: Multimind Solutions
Mob: +61(0)413848680
Member: National Trouble Makers Union
Residence: Adelaide, South Australia, since 1975
With time away in Hong Kong (2005-2011)  
_________________________________

"Whenever we treat each other well good things happen."
Al Stewart

---
Leave a Reply