UPDATE February 2016
These events are now 'off and running!' For what has been happening with  this new kind of social gathering in the Market after trading hours on weekday nights see here
Bookings for forthcoming events can be made here

The inaugural Conversare in the (Adelaide Central) Market event is scheduled for 24 November, 2015. And then fortnightly.
The fact that this is about to materialise did not, as you may well surmise, 'just happen'.
For there is a winding path from the first such event held in Hong Kong in 2009 about which came this comment:
"great concept indeed … think you just hit it right at bull's eyes … long wished for in the recess of our minds but not quite realized or voiced!"
Velda Kwan
 This was to do with what my friend Velda 'got' as have many others since then, as soon as they heard:
The idea of having contexts in which people who had not ever met could have rich conversations and that everybody present would be doing the same.
When a young waitress in a Market cafe heard that the derivation of the word Conversare is 'to tun or to dance together' she said "This sends a shiver down my spine."
A recent comment from a local person here 'Joe' who was party to some of the deliberations in the lead up to what is now emerging was a delight to hear! <smile>:
"I did not think you would do it!"
Well, my colleague Samone Wear, event manager extraordinaire, CEO of Platinum Event Agency and I are 'doing it'. With a lot of encouragement from friends and associates.
And, most generously and  practically, from Aaron Brumby, General Manager of the Adelaide Central Market, his management team and Board, and several traders in the Market.
There would be diverse reasons why people who have helped set up these events have done so. Among these are seeing the opportunity to use the space after trading hours which has not ever been done except for infrequent functions in its nearly 150 year history. And to bring a another focus to the Market which could attract new customers. Have you ever heard of any other shopping centre in which there is space set aside for – and encouragement of  – conversing among strangers?
Those lively spirits who choose to participate would likely also have a range of considerations as to why they do so. A list of possibilities is given in my post Conversare – an answer to many peoples' queries, wants and needs.
Somewhat 'bigger picture' views of these forthcoming events may resonate with you. Among these are:
. Now having access to 'just the right kind of place' in which to enhance the quality of civic life. To do this by enabling people of any background – which the current customers of the Market are – to have satisfying conversations. Given that in our modern, complex, and often quite fragmented lives there is little opportunity to connect in this way, other than with people we already know.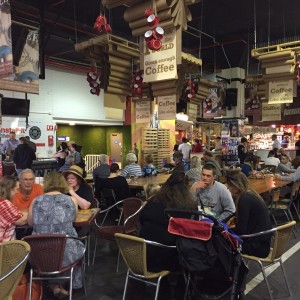 The venue for conversing among strangers after trading hours in the Adelaide Central Market

For more of what may happen in such a place when people who choose to participate do so in spirit of 'come to give rather than take' – which may be considered to be part of 'human becoming' see here.
And for an 'open spirited' account of encounters with strangers see here. Also for musings on 'Who is a stranger'? see here.
. Perhaps by staging this kind of event we make  a contribution to 'bringing conversation to life' and 'into life'.
To come back to the beginning …
Local people in our networks are being invited to participate in the inaugural events on the premise that they will be pioneers in experiencing the enterprise. And if they survive <smile> they will have wondrous tales to tell their grandchildren!
The kind of hosting required here is based on facilitation processes which underpin what is coming to be known as 'social artistry.' This term and its associated practices are new and not widely used in Australia yet, in my understanding.
If you wish to learn more about the characteristics of hosting of Conversare events  – with its underpinnings of conversational processes such as Open Space Technology, the World Café and Conversation Cafe  – you could do so by commenting on this post or on our new  facebook page. https://web.facebook.com/ConversareSA/
Can you imagine possibilities for setting up something similar in your city or neighbourhood?
Looking forward
Alan Stewart, PhD
Adelaide
PS Copies of the new print version (4th edition) of my book Time to converse – at the heart of human warmth will be available to purchase at the events. It can be ordered at www.multimindsolutions.com
---
Leave a Reply