Which, to my astonishment and joy, seems primed and ready for it.
'It' being social gatherings in public places in which a host welcomes all comers and introduces 'light touch' guidelines. Among these are 'feel quite free to mingle with whoever is here, whether or not you have met anyone present as everyone here is the 'right people'. Order your food and when it is ready to be served find someone you don't know with whom to have your meal together. This could be a sandwich in a local cafe or community centre during the day or dinner in a section of a restaurant or a pub at night.'
There is no topic to address, no problems to be solved, no strategies to develop, no outcomes to aim for. What then is the purpose?
I say that people in America are ready to experience this way of engaging  on a number of counts, some from my experience and observations and some from talking with diverse people in the course of my recent travels through this marvelous country; much to marvel about.
Here are stories of two Conversare events which 'happened' over the past couple of weeks. (I would add that I am now in London, UK, on the last leg of my rtw adventuring before returning home to Adelaide next week).
The first was in association with the World Open Space on Open Space 2013 held in St Petersburg, FL. This was the latest annual international get together of 'Spaceniks', people whose professional practice includes facilitation of OST. This conversational process is now widely used to address complex and conflicted issues very effectively as it brings out the best in all who participate. From which can emerge ideas and leadership which nobody could have anticipated.
On the first morning of this conference I convened a topic entitled 'Conversare – engaging among strangers in public places." See:
https://docs.google.com/document/d/1jcQ41E6ZnXp4MfPQ8tPqmeikUp2oekNPskoWHjwxEcw/
This attracted a lively group. Later I invited anyone who wished to experience this format to join over dinner that evening. About sixteen people did, once we were able to find a quiet nook – not easy as loud live music seemed to be everywhere in St Petes that night.
A photo of this event, kindly taken and inserted by Ben Roberts can be seen in the item above.
I will ask those present to add their comments to this post, starting with
Tricia … <smile>
The second happened a few days later in the new abode of my great friends Juanita Brown and David Isaacs, deep in the Blue Ridge Mountains of North Carolina, in Burnsville, near to Asheville. They are the people who first noticed the phenomenon of what has come to be named The World Café. This was in their previous home in Mill Valley just north of San Francisco. My wife Carmen and I visited with them there in 1998 and we have had lovely connecting ever since.
Hearing that I would be in the neighbourhood they very kindly invited me to visit with them. And took the opportunity of this to have their first ever gathering of 'conversational process' folk (TWC and OST 'afficionados') at the 'farm' in Burnsville.
There was, as you may imagine, a fine 'pot luck' – or 'bring a plate' as we say in Oz – dinner that night. Which was conducted, at Juanita's suggestion, Conversare style.  Immediately after announced this a lady called Joy invited me to join with her over our meal. Which turned out to be a most enlightening experience as, while she and I had led very different lives, we quickly established how much we had in common. Just one of these is that we are parents of sons who are doing interesting things all over our little planet.
After these 'duet' dinners we all gathered in a circle on a patio and shared our experiencing of conversing with a stranger, being aware that everyone present was doing the same. Most unexpected revelations were shared. And again, I will invite those who had the good fortune to be there that night to comment what they shared that night. Beginning with Gayatri, my most generous host in Asheville … <smile>
This cartoon, which I photographed in a pub in London yesterday, captures what some may fear about the presence of a stranger! This was not the case in either of the events reported above. <smile>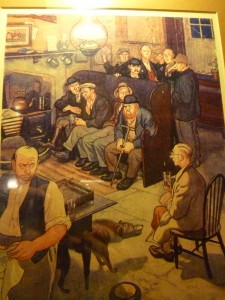 The Stranger
 The author in search of local colour spends a convivial evening roystering with the peasants at the local inn.
To conclude for now:
Who is ready for what a friend in Indonesia noted to me after being a participant in such an event  a couple of years ago in Padang, West Sumatra:
"Conversare is simple and deep – a spiritual adventure."
As I intimated above, it may well be that people in America are ready for this way to engage well with others in contexts in which there is no purpose except to experience the joy of the encounter.
Said another friend – in Hong Kong – recently "I have a friend who goes regularly to the US for business and I believe he would greatly enjoy being able to drop in on evenings that operate like conversare whenever possible. Is there any list of events or regular gatherings that you are aware of?": )
Indonesian people have word 'belum' which means 'not yet.' Based on what I have reported here, and on other observations and connections, could it be that Conversare will take hold in the US and other countries soon?
Is this a fair question, in your opinion? If so who will carry the banner?
Could it be those who are the first to recognise that this could be the beginning of a totally new career for people who have – or who wish to acquire – skills as a Conversare host which are thoroughly grounded in OST and TWC principles and practices? Which could be gainfully used in many kinds of public places all over the land(s)?
One such venture which I sense could see the potential value of the format is San Francisco based Next Door  which is 'about putting you in touch with those living in the same area.' From what I have seen of this venture the organisers  have not 'cottoned on' to this way of people getting  to know each other in some depth, belum!
Another possibility is that it be used in orientation activities for new (freshman) students at universities all over our little planet, 3rd from the sun.  I mentioned this to graduate students at the University of South Florida who I met in St Petersburg. They seemed quite taken with the idea that one of the main purposes of being at university is to engage well with people they would otherwise not normally
associate.  Is face to face  conversing a way to go in coming to appreciate our common humanity?
* See below for how to do this with ease and grace <smile> and why doing it matters.
Looking forward to whatever evolves
Alan Stewart
London – until Sun 2 June
* You can find a wealth of ideas about this in the new e-version of my booklet 'Time to converse – at the heart of human warmth.'
---
4 Comments
---
Leave a Reply